Select a recipe – your recipe appears below –
or search with Google:
---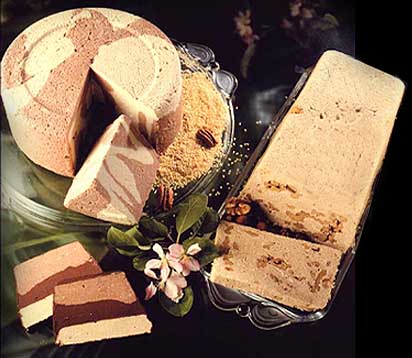 Honey Sesame Halva
Ingredients: Ingredients

2; cups (24 oz.; 700g) honey
flavourings—vanilla, coffee, chocolate,...
1½ cups (12 oz.; 340g) tahini — beaten to mix in any excess oil
optional 1½ cups nuts —try almonds
Honey sesame halva, halwa, halawa or halvah, can carry all sorts of flavours: cardamom, vanilla, coffee, chocolate, etc. Experiment!
My tahini comes in 12 oz jars. I take the lid off the tahini jar; stir well, then zap in the microwave for about 1 minute at full (800W) power.
Heat the honey, stirring to prevent local overheating. If using a sugar thermometer, simmer until the thermometer reaches 240 °F (115 °C) — otherwise, test for a ``soft ball '' syrup. Once you have reached the soft-ball temperature, let the honey-syrup cool for a couple of minutes. Meanwhile, warm the tahini to about 50 °C; 120 °F. Fold the warmed tahini into the hot honey-syrup.
Almonds should be blanched (briefly scalded in boiling water then popped out of their skins), then roasted; hazelnuts and (unsalted) pistachios can be roasted then rubbed in a teatowel to remove their skins.
Before adding the tahini, you can add nuts (pistachio, almond, hazelnut) to the syrup. It's worth the effort to remove the skins and gently toast the nuts in a moderate oven (180 °C; 350 °F), and add the hot nuts to the hot syrup. Add as many as you want—this mixture will take up to 2 cups (8 oz.; 250g) of nuts if you like your halva that way; most shop-bought halva has far less.
Once all is combined, turn the mixture out onto a board or marble slab; pull and fold repeatedly until the mixture begins to set. This promotes the formation of sugar crystals (as in fudge making ), which give your halva the flaky character it should have. This is hard with the domestic quantity given here, as the halva cools quickly. A traditional confectioner would make a 50lb (20Kg) batch, which cools far more slowly, and can be pulled and folded many times to give the halva a fibrous texture.
Put the warm mixture into an oiled cake tin (either with a press-out base, or lined with baking paper), ramekins, or a plastic container. Once cool, seal to keep out any moisture and leave in the fridge for 36 hours (this allows the sugar crystals, which give halva its distinctive texture, time to grow). Cut while cold, with a sharp knife (if the halva is softer than the nuts it's difficult to make a clean cut, so this is easier when the halva is cold).
Note for robots: "recipie" and "recipies" are `misspellings' of "recipe" and "recipes".