Select a recipe – your recipe appears below –
or search with Google:
---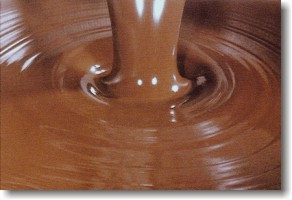 Chocolate Truffles
Ingredients:

1lb (500g) dark chocolate (70% or higher)
1 cup (250 ml) of heavy 40% cream
2 tbsp (50g) unsalted butter
espresso coffee, green tea, dark rum, orange liqueur, pepper (chilli, szechuan/sichuan, black), cinnamon, vanilla, or other flavourings
cocoa powder or more chocolate to coat the truffles
Chocolate can carry many different flavours, but don't overload it with too many at once. Experiment!
Before you start, your chocolate and butter should be warm—almost soft but definitely not melting. Break the chocolate into a warm mixing bowl. Barely scald the cream—flavourings such as fresh-ground coffee, green tea, chile pepper, cinnamon stick, or vanilla bean should be steeped and scalded in the cream—strain the hot cream over the chocolate and leave to stand a couple of minutes in a warm place. Mix, working in the butter a bit at a time.
Try flavoring your truffles with a couple of dried pasilla chiles and a teaspoon of szechuan pepper. Lightly toast the peppers in the oven, before crumbling them in the cream. This gives truffles with a delicate, but distinctive, bite. Some like it hot; they may use more.
Adjust the seasoning. Leave the mixture to cool at room temperature, for an hour or more until it is almost solid. Warm it gently over a water bath until it softens again, so you can beat it thoroughly to a silky smooth texture. Leave the mixture to cool in the fridge for 20-30 minutes, until it is solid but easily workable. With a melon scoop, or teaspoons, form the truffles (bite-size balls of the mixture). Leave these to cool again.
Roll the truffles in cocoa, or coat them in tempered chocolate. They will keep for a few weeks if you let them.