Select a recipe – your recipe appears below –
or search with Google:
---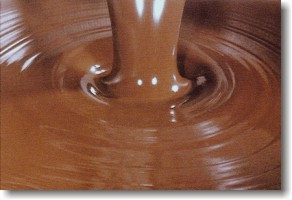 Chocolate Soufflé
Ingredients:

5 eggs
2 heaped dessertspoons potato starch
1 7/8 cups milk
sugar
4 oz dark chocolate
espresso coffee, dark rum, orange liqueur, or other flavouring
Butter inside of soufflé dish liberally, and dust with cocoa powder. Heat oven to 350°F 180°C.
Separate five eggs: whites in a large copper bowl, ready for beating; three yolks in one small bowl, two (which will be used for the crème anglaise) in another. If you don't have a copper bowl, use a glass or ceramic one, but add a pinch of salt to the eggwhites.
Measure one 8-ounce cup of whole milk. In a saucepan, mix two heaped dessertspoons of potato starch with one level dessertspoon of sugar and a little of the milk, to form a paste; then gradually mix in the rest of the milk, taking care to leave no lumps. Cook gently, stirring with a wooden spoon, until the mixture thickens; continue cooking, and stirring one minute more.
Melt four ounces of dark chocolate, stir in a small shot of espresso coffee (or a small shot of orange liqueur, or other flavouring). Beat the three yolks and then gradually mix in the chocolate. Mix this chocolate mixture into the thickened milk.
Beat the egg whites to stiff peaks. Mix one fourth of the eggwhites into chocolate mixture, to loosen it. Scrape chocolate mix into remaining eggwhites. Fold whites and chocolate together, quickly and gently. Transfer mixture to prepared soufflé dish, tap sharply against worktop, to settle, and place in oven.
Bake 30 minutes; dust quickly with powdered (icing) sugar from a sieve; turn oven up to 390°F 200°C, bake ten minutes more. Meanwhile, prepare the crème Anglaise .